Slax Linux OS Download
What is Slax
Slax is a Live operating system based on Linux. Live means it runs from an external media without any need for permanent installation. Slax boots from USB mass storage devices such as Flash Drive keys as well as from regular hard drives and CD/DVD discs. Simply plug your device in and boot from it. Entire Slax operating system resides in a single directory /slax/ on your device, making it easier to organize with your other data.
Slax provides KDE4 desktop environment already preconfigured for the most common tasks. Included are applications and tools for data recovery, multimedia playback, instant messaging, web and more. Slax has zram support activated by default, which is a new technology for automatic RAM compression. Thanks to it, Slax runs on computers with as low as 48MB of RAM (in text mode). You can put Slax on wide range of different filesystems, including EXT (ext2,ext3,ext4), btrfs, and even FAT and NTFS.
When Slax is started from a read-only media such as CD/DVD, it keeps all system modifications in memory only, and all the modifications are lost when you reboot. On the other hand, if you run Slax from a writable device such as USB Flash Drive, it stores all changes there, so all your configurations and modifications are restored next time you boot, even if it is on a different computer. This feature is known as Persistent Changes and you can read more about it in a separate chapter.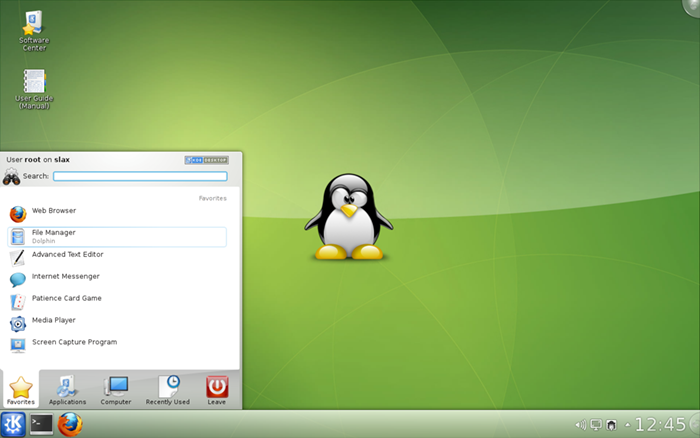 Slax is a modern, portable, small and fast Linux operating system with a modular approach and outstanding design. Despite its small size, Slax provides a wide collection of pre-installed software for daily use, including a well organized graphical user interface and useful recovery tools for system administrators.
The modular approach gives you the ability to include any other software in Slax easily. If you're missing your favourite text editor, networking tool or game, simply download a module with the software and copy it to Slax, no need to install, no need to configure.
Slax is available in more than 50 languages and includes translations, keyboard mappings, fonts and system settings for each localization. Slax follows XDG Base Directory Specification in order to provide localized names for well known user directories such as the desktop folder and the music folder. Select your preferred download below and enjoy Slax in your language!
Click Here Download Slax Linux OS
Slax Linux OS Download